2023 Okanagan Dream Rally: IMPORTANT UPDATE

* IMPORTANT ANNOUNCEMENT *

UPDATE:
While we realize the recent announcement was difficult news for all of our event-goers and participants alike, you can feel assured knowing this is solely a postponement, not a cancellation.
We're confident that this additional time presented to our team will unquestionably enhance the Dream Rally experience and all that comes with it.
Please join us on July 27th 2024 as we take the Okanagan Dream Rally to an entirely new level. Featuring an all-new route, some new and familiar faces and several spectacular surprises that you will not want to miss!
Visit our website to sign up for our newsletter and receive all the updates as we embark on this very exciting new path.
Love,
The Dream Team 💚🏁

ORIGINAL: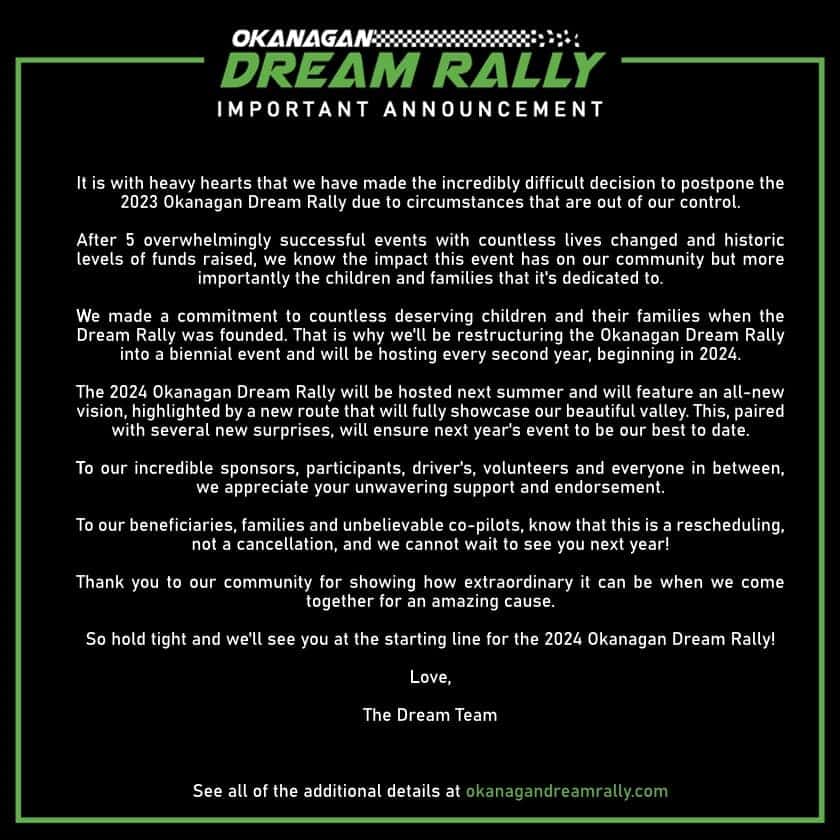 It is with heavy hearts that we have made the incredibly difficult decision to postpone the 2023 Okanagan Dream Rally due to circumstances that are out of our control.
After 5 overwhelmingly successful events with countless lives changed and historic levels of funds raised, we know the impact this event has on our community but more importantly the children and families that it's dedicated to.
We made a commitment to countless deserving children and their families when the Dream Rally was founded. That is why we'll be restructuring the Okanagan Dream Rally into a biennial event and will be hosting every second year, beginning in 2024.
The 2024 Okanagan Dream Rally will be hosted next summer and will feature an all-new vision, highlighted by a new route that will fully showcase our beautiful valley. This, paired with several new surprises, will ensure next year's event to be our best to date.
To our incredible sponsors, participants, driver's, volunteers and everyone in between, we appreciate your unwavering support and endorsement.
To our beneficiaries, families and unbelievable co-pilots, know that this is a rescheduling, not a cancellation, and we cannot wait to see you next year!
Thank you to our community for showing how extraordinary it can be when we come together for an amazing cause.
So hold tight and we'll see you at the starting line for the 2024 Okanagan Dream Rally!
Love,
The Dream Team 💚🏁