Drivers: Your Co-Pilots Are Waiting!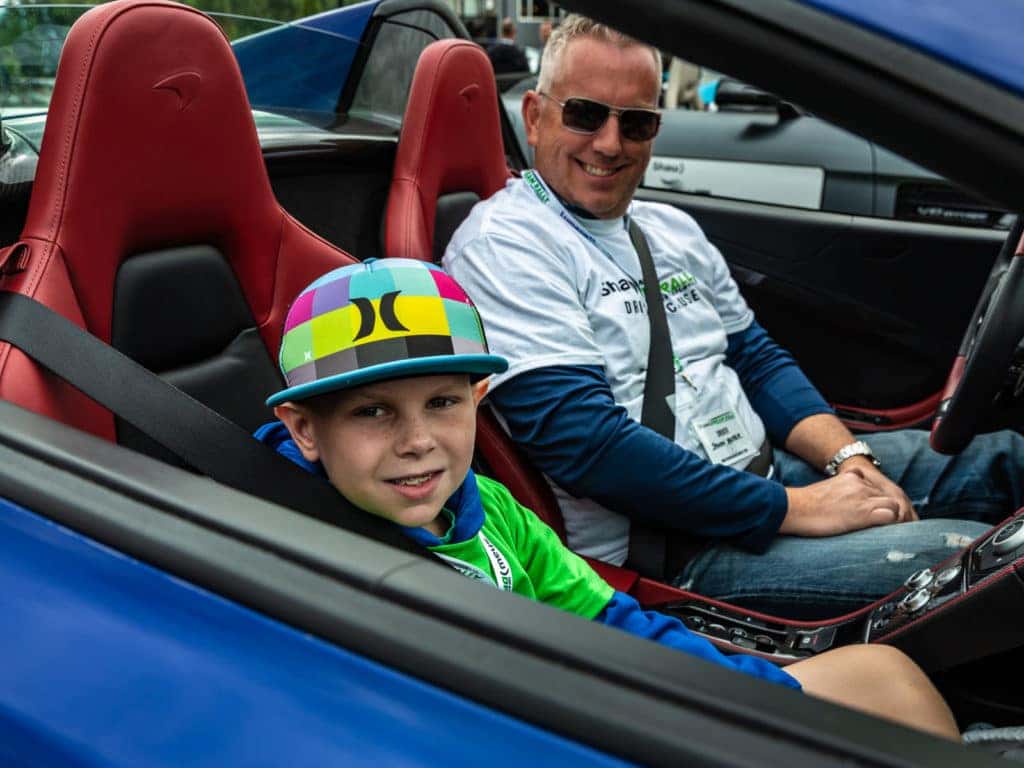 LESS THAN ONE MONTH TO GO!
Meet Jason and his Co-pilot Connor.
Jason was a driver in last year's Okanagan Dream Rally and had the pleasure of having young Connor in the passenger seat for the day!
In 2016, Connor was diagnosed with a type of brain cancer which required his family to stay at Ronald McDonald House BC and Yukon for most of the year while receiving treatment. Thanks to his treatment, Connor is currently in remission!
This is just one of the many stories of the co-pilots and drivers that participate in the Dream Rally and the impact this event has on those involved.
The 2019 Okanagan Dream Rally is back on August 4th and we are still looking for more drivers to become involved! If you have an eligible vehicle, please consider registering to drive for a cause.
Visit www.okanagandreamrally.com or message us for more info!
The 2019 Okanagan Dream Rally features our 2nd Annual Launch Party, an event that has become a very special part of the Dream Rally, helping us raise over $200,000 in 2018 alone.
Watch the Official 2018 Video:
2019 Promo Video:
WHO THE DREAM RALLY SUPPORTS:
From 2018-2020 we are committed to helping Ronald McDonald House BC and Yukon raise $500,000 to help families staying within the organization's facilities receive the care they need. In 2017 alone, over 30% of the families staying at the facility located in Vancouver were from the Okanagan Valley. This really struck home with us and was a motivating factor in our decision to make this commitment.
The August Family Foundation is proud to announce that in addition to supporting the Ronald McDonald House BC/Yukon, proceeds from the Okanagan Dream Rally will also be donated to the KGH Foundation in support of their newest project, JoeAnna's House.
JoeAnna's House is expected to change the way families experience hospital care for their loved ones, keeping everyone under one roof.
A BRIEF HISTORY:
August 7, 2016 marked the date of the inaugural Okanagan Dream Rally and it was just the beginning for both what this event means to us, and what it means to our community. To date, the August Family Foundation has raised $827,000 together to support some incredible causes in our community. OUR MISSION: With the Okanagan Dream Rally, we hope to provide special children and their families with an incredibly fun-filled experience of being in the co-pilot seat of a dream car for a day. In addition, providing opportunities for our community, public figures, and businesses to support a good cause and make a difference locally in their community. Our mission is simple. We want to put a smile on the face of a child in need and provide them with a day that they will never forget. With the help of incredible drivers, sponsors, and those donating towards this event, we are able to raise funds for causes that have a profound impact our community.
EVENT BRIEF:
Participating children of the Okanagan Dream Rally will have their very own high-end rally car and driver for a day. The community and its spectators will partake in the street excitement while the most incredible supercars and sports cars from throughout Western Canada start their engines in Kelowna and circuit through the beautiful parts of the Okanagan Valley including Peachland and Penticton for an experience of a lifetime. Who's joining us?
Register an eligible vehicle:
https://www.okanagandreamrally.com/register
Sponsorship Opportunities:
https://www.okanagandreamrally.com/sponsor
Public & Spectators: You are invited to join the excitement on the morning of the rally. Experience the incredible vehicles participating in the rally while they are all parked together on the street in Kelowna's downtown core. It is truly something unlike you have ever seen!
* Co-pilot registration is still open *
FOLLOW THE OFFICIAL EVENT PAGE ON FACEBOOK FOR UPDATES AND DISCUSSION!
Full list of 2018 sponsors (alphabetical):
50th Parallel Estate Winery / BLOCK ONE Restaurant
Adesa Vancouver
All Elements Design
Area 27
Argus Properties
Kelowna Auction World
Audi Kelowna
August Luxury Motorcars
August Mazda
Bank of Nova Scotia
BlackBean Design
BNA Brewing Co. & Eatery
Boulevard Magazine
Boutique Esthetics Lounge
Boyd Autobody Okanagan
CakesbyLaur
Kelowna Capital News
Capri Insurance
Class of West K
Creekside Dental Clinic
Current Taxi
D&M Auto Recycling
The Daily Courier
Debruin Homes
Delcourt Advisory Group
Dentique Paintless Dent Repair – Kelowna
Distinctive Collection
Disturbing The Peace Car Audio
DK Modern Furniture
DKL Financial Services
Elevation 57 Brewing Company
The Film Factory
Fitness Depot
Garry Harder – Real Estate
Gasoline Alley Harley-Davidson of Kelowna
Glenmore Chiropractic
Global Fitness Centre
Grant Thornton LLP Canada (Kelowna, BC)
Hampton Pools & Landscape
Helix Integrative Health
Innocept Realty/ St Paul
International Motor Cars
Jane Hoffman Group – Kelowna Real Estate
JF Logging
Kane, Shannon & Weiler
KDT Enterprises – Kelowna
Kelowna Chevrolet
Kelowna Family Dental
Bannister Cadillac Buick GMC Ltd
Kelowna Golf & Country Club
Kelowna Performance Collision
Kelowna Rockets
Kelowna Toyota
KF Aerospace
Kitsch Wines
Knight Automotive Group
Laconic Sports & Entertainment
Lanan Motorcars
LazyBoy Furniture Galleries
Level Up Strategies
LGM Financial Services
Martin Motor Sports Kelowna
Mazda Canada
McLaren Vancouver
Mervyn's Bodyshop
Mirror Image Custom Auto
NAI Commercial Okanagan
Nimmo Bay Wilderness Resort
Nor-Val Rentals
Northern Auto Exchange
OK Heli
Okanagan Charity Classic
Okanagan Lifestyle Apparel
Okanagan Valley Insurance
ONE Boardshop
Optic Signs & Marketing Inc.
Oranj Fitness Kelowna
Orchard Ford Sales Ltd.
Pompu & Associates
Porrelli Law
Porsche Centre Kelowna
Prestige Hotels and Resorts
Private Sky Aviation Corp / Lumeca Health
Pro Smart Auto Care
Pushor Mitchell LLP
Racing for a Cure
RBC
Relvas Catering
Rutland Glass
Sanmarc Custom Homes
Scandia Golf & Games
Score on Davie
Scrub Captain
Seca Surf & Marine
Shaw
Shoreline Pile Driving
Spinco
Starwatch Audio Video
Steve Rosset Photography
TAC Solutions
Tactical Custom Boats
Tempest Aviation Group
The Vaults
ThreeSixty Physiotherapy
Unifirst Corporation Kelowna
V2R Construction Group
Velocity AP
Vitalis Extraction Technology
Xchange Kelowna
Young Living Essential Oils